Learning To Post Images to My Blog and My Very First Freebie...
by Lisa Decosse on 10/06/12
Well, it took me over 4 hours to learn to post images to my blog. Unfortunately, the 'adding images to the blog' option in Homestead is not a straight forward process. The worst part is that I tried for 2 hours on my own one night and got absolutely nowhere. So, the next afternoon I spent almost an hour trying to get someone to chat with online who was proficient in the subject matter at hand. Another hour later she told me to do the same thing I did on my own. However, when I did it with her standing by, it worked. Don't you hate it when that happens? So my first image was my 'blog signature'. Not very ambitious but I had to start somewhere, right?
Today mind you, I'm taking a big step up as I will be posting my first ever sentiment freebie. I'll keep my fingers crossed and hopefully this will work and you will be able to see and save the image if you would like it.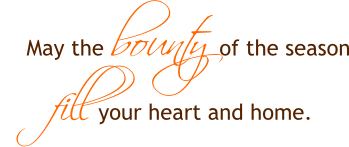 This sentiment is a combination of Trebuchet MS and Scriptina Pro; both of which are available online for free download. It was created for the inside of a Thanksgiving card that I am entering into two different challenges and afterwards I will be giving it to my parents when they come up to visit next week. They've recently moved about six and a half hours drive southwest of where we live and it has been a difficult transition for me. You see, I'm an only child and my parents moved to be closer to us almost 20 years ago. They needed a change and a better apartment complex to live in now that they are getting older and the closest suitable location is in London, ON. They've been gone since the end of August and I really miss them. But I digress...
I'm also including a black and white version in case you would prefer that.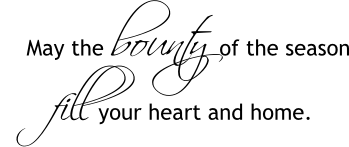 I haven't come up with my policy for using images yet. So for now, suffice it to say that if you save/use one of my images:
Do not claim the image as your own.
Credit 'Decosse's Dynamite Doodles' somewhere on your card in print big enough to actually read.
Please do not share my images. Instead direct people to my blog and they can grab the image for themselves.
If I have signed an image, please do not delete my signature.
Please leave a comment on my blog. It will help to inspire me to continue to offer future freebies.
Thanks for your cooperation and I hope you get some use from this sentiment.
Until next post,