Anniversary Card & Can Someone Explain 'Back Linking' To Me?
by Lisa Decosse on 10/22/12
The card I created for the 25th anniversary of the day my husband and I started going out was a success. My husband really liked it. Of course he forgot to get me a card this week (although he did at least remember what today was) and when he found out I'd made him one, he snuck out this evening while I was upstairs and headed to our local corner store (the only place to go on a Sunday after 6:00 p.m.). Anyways, after a desperate plea to the cashier, he managed to locate one so he could exchange cards with me later in the evening. He is such a turkeyhead but I still love him after all this time.

We had a nice meal out at a restaurant and spent the evening together. He is now sleeping and I'm back at work on the computer. I've spent the last two hours trying to find challenges to enter this card into. Since I'm so new to entering challenges it is hard to know where to go. I've been relying on the challenge lists that other bloggers have created so to all of out there that list the challenges you enter and provide a link to said challenge on your blog, I appreciate it.

I'm also still a little fuzzy on the 'no back linking' rule that most challenges have. I get that you can't use a card you've posted a long time ago but what about a card that you may have posted and then found a suitable challenge a few days up to a week later? Can you re-post that same card into a new post? If the date the challenge starts comes before the date of your post, is that okay? Help, anyone?????

Anyways, back to the card. Here is the front. Don't you just love those colours together?




































And here is the inside: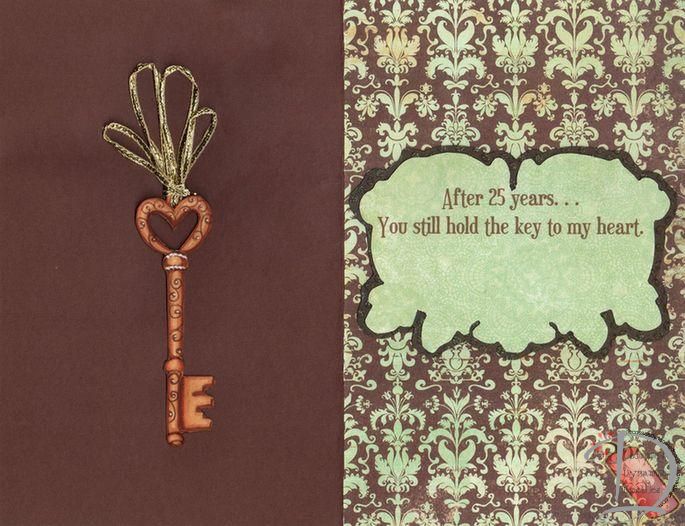 And here are the details. I hope I haven't forgotten anything...

Image of the key is from San's Designs. It is coloured using Copic(R) markers: E31, E33, E37 and the colourless blender. White was added in using a Recollections(R) Signature Special marker.
Paper: Basic brown cardstock from Dollarama(R); the brown and aqualike damask paper along with the single coloured aqualike patterned paper are both from the Recollections(R) Mosaic Memory paper pad; the dark brown paper with glitter treatment I used as a silhouette is from the Recollections(R) Signature Special: Charming paper pad.
I used the Cricut Paper Lace II cartridge to make the heart and heart silhouette on the front. I then used the silhouette as a template to help me cut out around the sentiment on the inside.

Ribbon: Dark brown satin ribbon used on the front is from Crafts(TM); gold ribbon inside the card is an Offray(TM) ribbon.

The card challenges I've entered into are:
Sometime during the next week I'll post the sentiment I created as a freebie.
Thanks so much for stopping by and don't forget to leave some love if you have the time. The comment form doesn't have an individual place to put your website address (for those of you with your own blog) but I'd love to know where you came from.

Until next time,